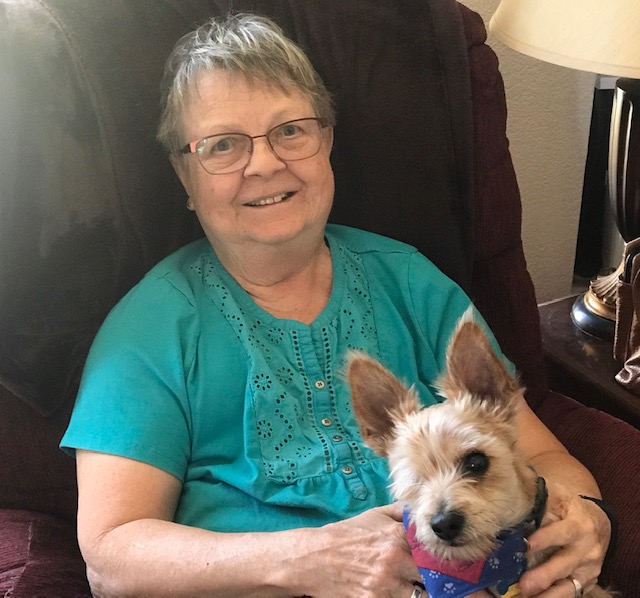 Welcome to my website- I'm Marion and this is my new "fur baby" Buzzy

On August 28, 2023, I celebrate my 23rd year of survivorship from 3 types of breast cancer (all stage 3) with lymph node involvement – just 2 months after a "clean" mammogram! I was the facilitator for our local Breast Cancer Group (So. CA) for about 2 years and then decided to do more one-on-one counseling of newly diagnosed breast cancer patients, referred to me by my surgeon, oncologist, and friends. Now, because you found us,  you are all going to be my friends, too! 
This website was a dream of mine – it serves to fulfill a promise I made to God that for every day I survived, I would do my best to make a difference in someone's life,  I'm so glad you are here.  Please know that no questions are too stupid, no feelings that you are experiencing are new to this fight we all are waging.  I look forward to talking to each of you, and doing what I can to help you through your journey with surgeries, chemotherapy, radiation, and all the rest, plus getting on with your life when treatments end and the rest of your life begins! 
Best wishes to all of you, my "boob sisters" and "boob brothers" (we can't forget the men who also have breast cancer, although they are in the minority of about 1% – they need our support, too).
I hope you benefit from the information and many links provided here.  These have helped me, and I hope they help you, too. So if you have a certain link or information you'd like to share, please contact us and we will try to include it here for others to see and learn from.  Thank you for visiting, please become a member, it's free, and we keep all information confidential
"The purpose of life is not to be happy.
It is to be useful, to be honorable, to be compassionate,
to have it make some difference that you have lived and lived well."


-Ralph Waldo Emerson